One of 1970s rock band Fleetwood Mac's greatest hits was "Don't Stop," and band member and cofounder John McVie (the "Mac" of Fleetwood Mac) certainly didn't stop when he laid eyes on one of Honolulu's greatest secluded estates back in 2006. It's a home where you can truly "go your own way."
Located near the slopes of Diamond Head and walking distance from the sandy beaches of Waikiki, McVie's Hawaiian home for more than a decade is hidden, flexible, and versatile—allowing everything from intimate gatherings to large parties, as befits a musician/entertainer. The spacious residence of more than 9,000 square feet is notable for its contemporary design (it was built in 1986), with hints of streamline moderne and art deco influences—and certainly accords with a lifestyle that values privacy and luxury.
Not only a Grammy-winning musician as part of Fleetwood Mac, owner McVie is also an avid sailor, and the home's proximity to the ocean doubtlessly influenced his decision to reside here. A generous corner lot and lush plantings contribute to the property's desirability and privacy.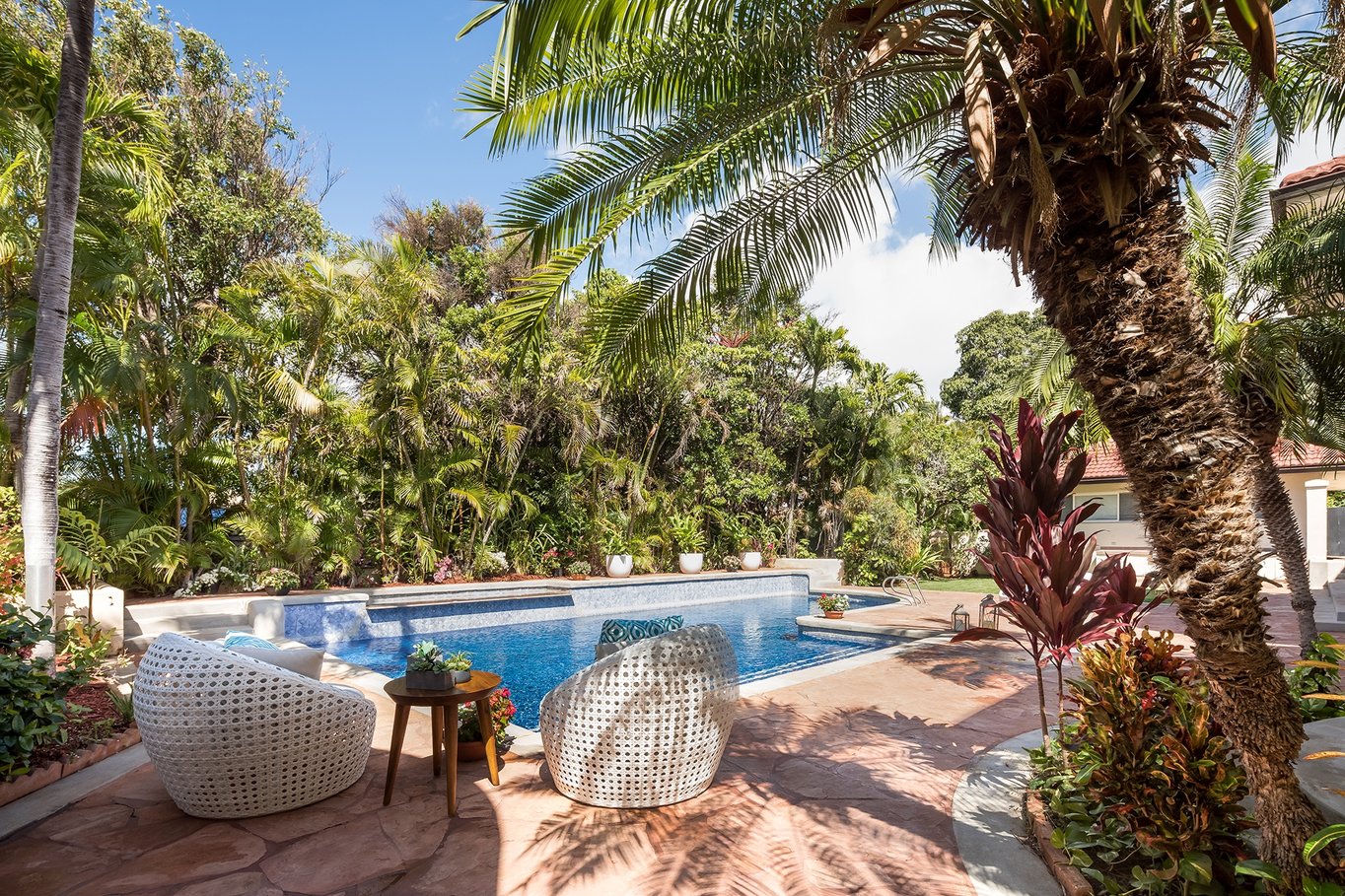 Entering the home, visitors will be impressed by the stately patio enclosure that fronts the residence and frames its main entrance. The front doors open into an expansive living area that enjoys a double-height ceiling, with the second story accessed by a fancifully designed staircase and graced with balconies accented with art deco-style glass bricks.
A dine-in kitchen and gleaming adjacent dining room with a distinctive wooden table are additional ground-floor highlights.
Upstairs, a magnificent master suite is noted for its clean lines and generous closet space, with additional bedrooms all enjoying cinematic views.
Outside, guests will be struck by a magnificent courtyard that includes a welcoming swimming pool, barbeque area, adjoining covered patios, and vistas of the city and the beach. All told, this tropical retreat and its owner have one important thing in common—they're both indisputably rock stars.
Photography by Mark Singer Photography
DON'T STOP—READ MORE HERE