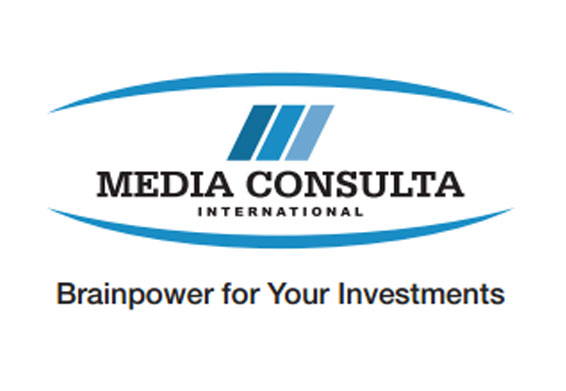 The business integrator operates five lines of Business- The full service Advertising division – accounts for 55% of the profit reported, the Barter Bank division which generated in 2016 8% of profit, the Tender, Ecommerce and Special Events division responsible for 10% profit of the company, Financial investments division responsible for 5% of the profit and Real Estate division which generated accrued profits and reported 22% of the profit.
The company also accounts for the stakeholders' interests of the economic magazine online Saptamana Financiara, relaunched in February 2015.
According to the available data on mfinante.ro, in 2015 Media Consulta International achieved total revenues of approximately 2 million euros profit rate of 17% to revenues. 
Operating with 16 internal employees and 15 permanent collaborators for all lines of business and 10 employees internationally who deal only with the promotion and sales of the services provided, Media Consulta is a model of an entrepreneur business  – from the dynamic world of communication and publicity – with a huge responsiveness and able to mobilize in an umbrella structure up to 200 employees through its collaborators.
With offices in France covering the French Riviera, in Spain, UK, Switzerland, the company actively seeks customers for its businesses exporting product model always aiming to build international track record by accessing new financial resources for its international real estate investments. 
With current financing lines opened in Romania at Garanti Bank as well as financing for the its Real Estate investments approved by international banks such as Societe Generale, Credit Agricole France, Monaco or HSBC-New York, Media Consulta International decided to increase its share capital with the undistributed profits of the recent years in order to attract new investments in the Real Estate market of international prestige.
The macroeconomic indicators generated by Media Consulta International – solvency, profitability, liquidity – convert the company into a highly stable and high perspective market player with owned equity and level of indebtedness – currently available
– highly important elements in order to achieve a multiple 10 leverage vs. equity allowing considerable investments in major international projects. 
Also, in 2015, Media Consulta International sold Dobrogea TV,  local television station –released in 2011 as Pagina de Media described here-
https://www.paginademedia.ro/2015/07/mihai-craiu-i-a-vandut-postul-dobrogea-tv-miliardarului-gabriel-comanescu
Media Consulta International is not at its first successful exit, developing and then selling the Television School Tudor Vornicu  http://www.adplayers.ro/articol/Business-6/Scoala-de-Televiziune-Tudor-Vornicu-tinteste-un-business-de-900-000-1-300-000-EUR-si-600-900-de-cursanti-pe-an-4028.html-
to Prima TV Media Holding as Adevarul mentioned below
http://adevarul.ro/entertainment/tv/Scoalade-televiziune-tudor-vornicu-alatura-grupului-media-comunicare-gmmh-cuprinde-tv-1_5360eb220d133766a83b59a3/index.html
The management of the company is provided by Mihai Craiu -founder and CEO leading a team of senior and well trained professionals in operating marketing, advertising, business development, auditing and financial strategy as well as the world of business consultants.