rue, you can't put it under the Christmas tree, stuff it in a stocking, or place it next to your Hanukkah menorah, but the gift of a private island solves the eternal question: What do you give that special person who has everything? Luxury Defined presents a collection of five secluded, private islands which offer the ultimate in luxurious residences at exotic destinations like Belize, the Bahamas, and Italy's Emerald Coast, or more northerly climes such as Maine and Montana! Not included: Your mistletoe and holiday sweater. Some things are priceless.
Hope Island
Maine, United States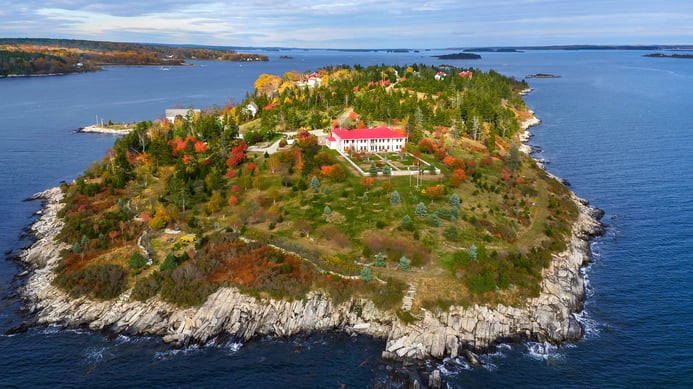 Framed by a rugged backdrop of rocky coastline and crashing surf, this 86-acre islandkingdom is situated in Casco Bay, just off the coast of Maine. Hope island's 11,050-foot shoreline is composed of sand beaches and inlets, with a deepwater dock and protected moorings. At its center is the main residence, an 11,000-square-foot mansion designed for year-round living and entertaining. The amenities are unique: beautiful Formal gardens, stables with fenced paddocks, a barn and storage buildings, several guest/staff dwellings, a boathouse, and even a tavern. Hope Island is conveniently situated only 25 minutes by boat from the city of Portland.
Lobster Island
Eleuthera, Bahamas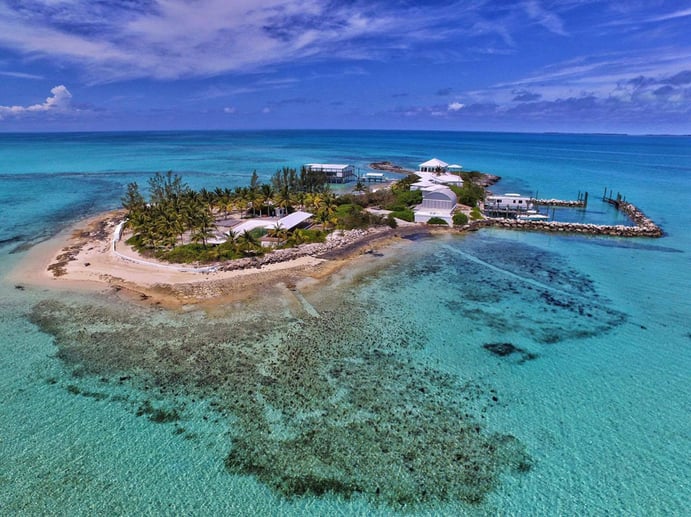 As idyllic as its name suggests, Lobster Island is a secluded Bahamian paradise with an array of rare attractions for the ultimate waterfront lifestyle. The 2,600-square-foot main house has four bedrooms, two bathrooms, a commercial-grade kitchen, and a great room with panoramic sea views. Two guest cottages each have full kitchens, two bedrooms, and relaxing living areas. The island's star attraction is the Sea House: built above the sea, this 8,000-square-foot entertaining space is equipped with a unique glass-floored aquatic viewing area. For outdoor recreation, there is a beach pavilion and natural saltwater swimming pool, which teems with a cornucopia of exotic fish. Other outstanding amenities include a sandy beach, safe harbor, helipad, fitness room, three generators, a water purifying system, and separate Wi-Fi networks for each residence.
Royal Palm Island
Little Frenchman Caye, Belize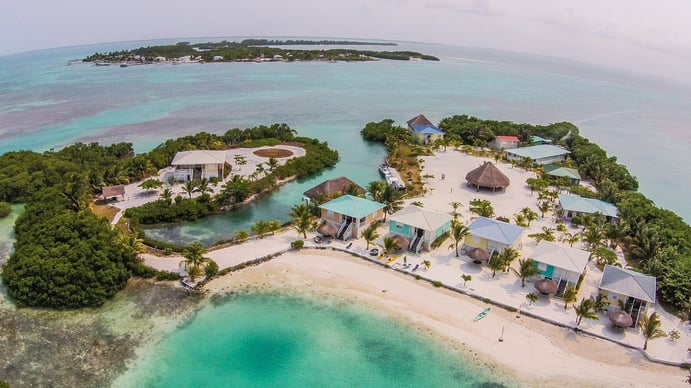 Just one mile away from the magnificent Belize Barrier Reef—home to the world-famous Blue Hole—and less than nine miles off the coast of Belize City, Royal Palm Island is a 6.559-acre private hideaway replete with palm trees, lush vegetation, and sandy beaches. The island's unique accommodations include a luxurious owner's residence and five colonial-style cottages, each with two bedrooms and a cabana, steps from the turquoise sea. Other lavish resort-inspired amenities include a dining and bar area, conference facilities, spa, helipad, and a marina with four boats (included in the offering). This property is eco-friendly and self-sustainable, complete with solar power and a reverse osmosis water-filtration system.
Private Island on the Emerald Coast
Porto Cervo, Sardinia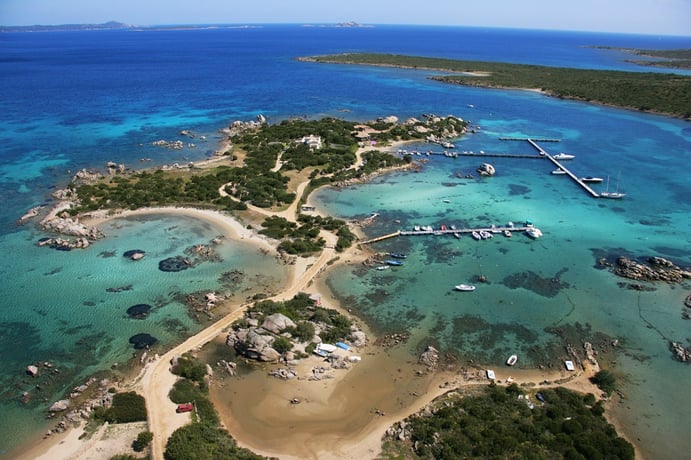 Few properties are as exclusive and private as this island off the coast of Porto Rotondo on Sardinia's Costa Smeralda. Framed by aquamarine waters and white-sand beaches, this 10-acre private island is replete with hidden coves, boulders, and lush juniper bushes that create an idyllic microclimate. Among the island's multiple dwellings is a stunning contemporary villa with three en suite bedrooms, large living and dining rooms, kitchen, and multiple terraces; a beach villa; two guest houses; and staff quarters. There are also excellent yachting facilities including a large pier with several berths, which allows for easy passage to and from Porto Rotondo's prestigious marina and upscale attractions.
Bonefish Cay
Abaco, Bahamas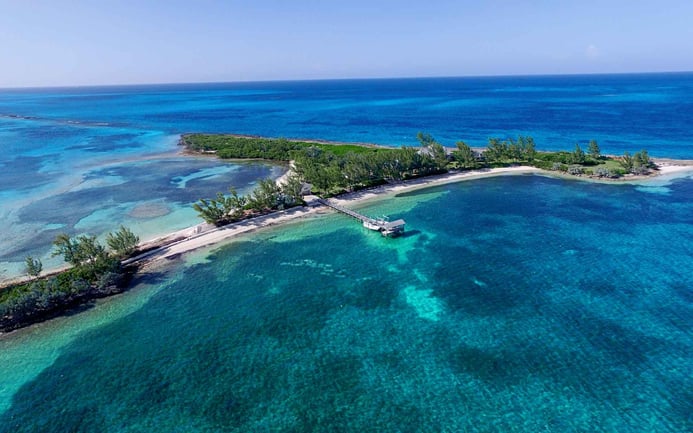 This jewel in the northern Bahamas was built to capture the essence of the private island lifestyle. The 13-acre luxury compound on Bonefish Cay features five luxurious dwellings set amid a paradisiacal tropical landscape with two white-sand beaches, a shallow bay, mangroves, and nature trails. The accommodations total 15,000 square feet with nine bedroom suites, staff quarters, a chef's kitchen, and gym. The 5,000-square-foot main house offers 360-degree views of the island, the Atlantic Ocean, and the Sea of Abaco. The spectacular property is hurricane proof and completely self-sufficient, with its own electricity generator and desalination plant. The keys to the property come with all furnishings, fixtures, and recreational equipment, including a trimaran, speedboats, jet skis, and scuba-diving gear.