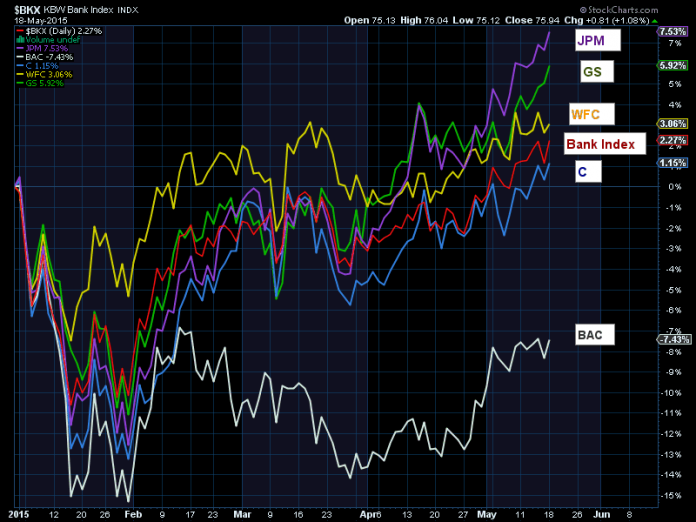 Richard explains why strong fundamentals still make tech stocks a good bet despite recent stumbles.
Global tech stocks — stars of the post-crisis bull market — stumbled in recent weeks. Worries that trade tensions and regulatory scrutiny could dent profitability have shaken confidence. We believe recent weakness reflects rising risks but is not a tech wreck in the making. Strong fundamentals underpin our preference for the sector.
The chart below shows sales growth for the global tech sector is expected to outpace that of the broader market. The synchronized global recovery is a boon for both, but we believe current estimates for the tech sector have yet to fully factor in a wave of business investment into tech equipment and services (see below). This could propel estimates even higher.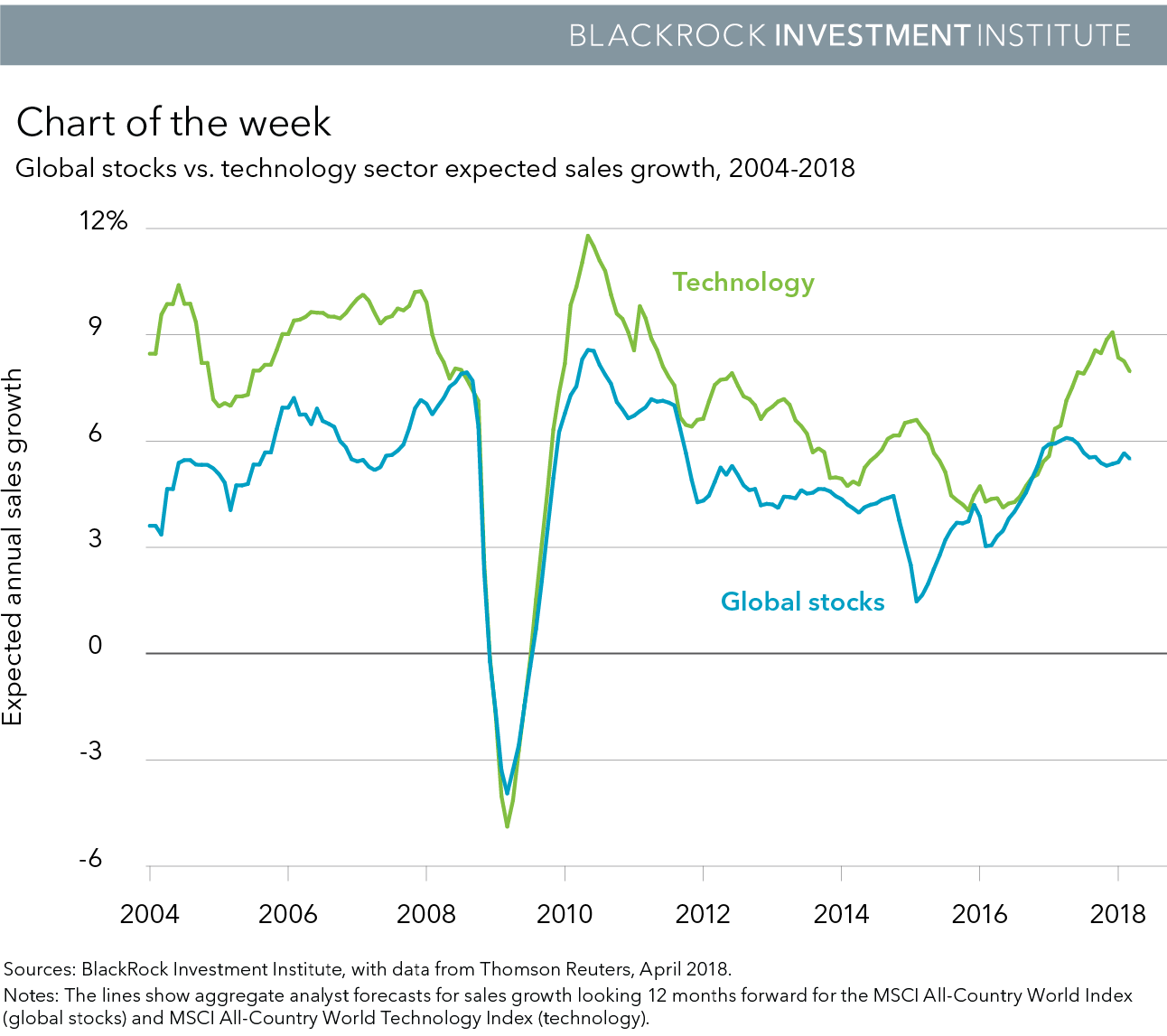 Tech earnings momentum is broad-based, spread across hardware, software and semiconductors — unlike the 1990s, when it was dominated by hardware. And technology stock valuations generally appear reasonable relative to other sectors and their own history. U.S. tech, which makes up 70% of the global sector, trades at 17.4 times forward earnings — only a small premium to both its five-year average and the broader market. Emerging Asia tech, accounting for 18% of the global sector weight, trades at 14.1 times forward earnings — also a small premium to broad emerging market stocks. These valuations appear fair, in our view, given the superior sales and earnings outlook for the sector.
A new phase
Technology stocks have dominated equity market performance and global corporate earnings growth in much of the post-crisis era. Enthusiasm for the sector is now facing a test. Trade tensions between the U.S. and China center on key issues for the tech sector: intellectual property, technology transfers, market access and investment restrictions. A series of unrelated, high-profile scandals from data breaches to self-driving car accidents has raised the specter of more stringent regulatory scrutiny.
Tech stocks are well-represented in benchmark indexes and make up a 31% share of the developed market momentum style factor. The high weight combined with strong performance leaves the sector vulnerable when investors cut risk. But we see robust demand growth for tech products and services as a powerful ballast for the sector. For example, semiconductor makers are well placed to benefit from broad demand as a wide swathe of industries incorporate chips into their products. Mega-cap tech companies geared toward enterprise spending are also benefiting from an uptick in demand. See Tech for the long run of September 2017 for details.
Read more market insights in our Weekly Commentary.
The tech sector was a laggard in the binge of earnings upgrades following the U.S. tax overhaul, as it had one of the lowest effective tax rates. But an indirect benefit may be in the offing: Our text analysis of corporate conference calls suggests companies across industries are looking to deploy their tax windfalls on tech spend. This could spur more upgrades for tech sales.
The pitfalls should not be ignored. Internet companies may be vulnerable amid consumer concerns over privacy and greater regulatory scrutiny. Proposed U.S. tariffs target products tied to China's plan to become a leader in innovation — from tech hardware to artificial intelligence.
Our bottom line
Policy risks reign and markets have quickly priced in greater uncertainty. We do not see a swift rebound in valuations, but expect earnings growth to power returns. We stick to our preference for tech within our positive view on equities.
Richard Turnill is BlackRock's global chief investment strategist. He is a regular contributor to The Blog.
Investing involves risks, including possible loss of principal.
This material is not intended to be relied upon as a forecast, research or investment advice, and is not a recommendation, offer or solicitation to buy or sell any securities or to adopt any investment strategy. The opinions expressed are as of April 2018 and may change as subsequent conditions vary. The information and opinions contained in this post are derived from proprietary and nonproprietary sources deemed by BlackRock to be reliable, are not necessarily all-inclusive and are not guaranteed as to accuracy. As such, no warranty of accuracy or reliability is given and no responsibility arising in any other way for errors and omissions (including responsibility to any person by reason of negligence) is accepted by BlackRock, its officers, employees or agents. This post may contain "forward-looking" information that is not purely historical in nature. Such information may include, among other things, projections and forecasts. There is no guarantee that any forecasts made will come to pass. Reliance upon information in this post is at the sole discretion of the reader.
©2018 BlackRock, Inc. All rights reserved. BLACKROCK is a registered trademark of BlackRock, Inc., or its subsidiaries in the United States or elsewhere. All other marks are the property of their respective owners.