Dr. Gail Stavitsky, chief curator at the Montclair Art Museum, discusses Matisse and American Art, the institution's transatlantic take on the abiding influence of the French master
From 5 February to 18 June, the Montclair Art Museum in Montclair, New Jersey, presents Matisse and American Art, an exhibit that examines the influence of the French master on American artistic practice from 1907. Comprising painting, sculpture, prints, works on paper and other objects, the show presents 19 pieces by Henri Matisse alongside 44 works by American artists such as Richard Diebenkorn, Robert Motherwell, Ellsworth Kelly, Roy Lichtenstein, Andy Warhol, Romare Bearden, John Baldessari, Sophie Matisse, Faith Ringgold and Helen Frankenthaler.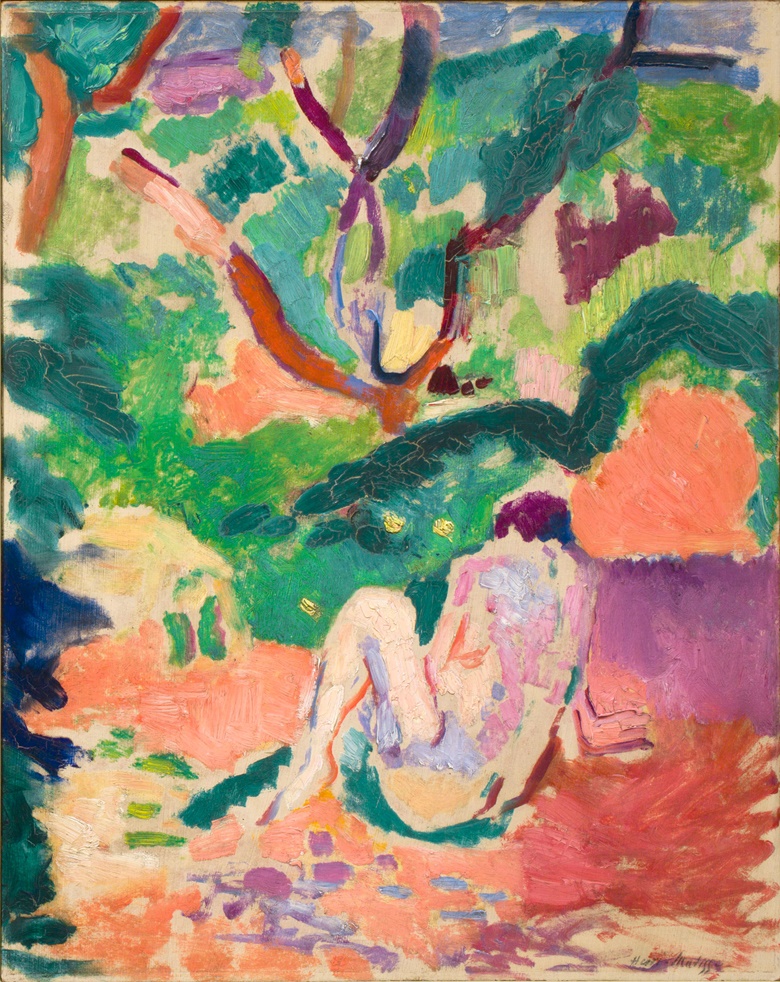 Henri Matisse (1869-1954), Nude in a Wood (Nu dans la forêt; Nu assis dans le bois), 1906. Oil on board mounted on panel. 16 x 12 in (40.6 x 32.4 cm). Brooklyn Museum, Gift of George F. Of, 52.150 © 2016 Succession H. Matisse / Artists Rights Society (ARS), New York
The pairings highlight Matisse's wide-ranging influence on the selected artists, from their choice of subject matter to methods of composition and use of colour. Although this is not the first exhibit to explore Matisse's impact on American artistic production, it is the first to stress the longevity and ongoing nature of that relationship, featuring works that run from the turn of the 20th century into the 21st. We spoke with Dr. Gail Stavitsky, chief curator at the Montclair Art Museum, to find out more.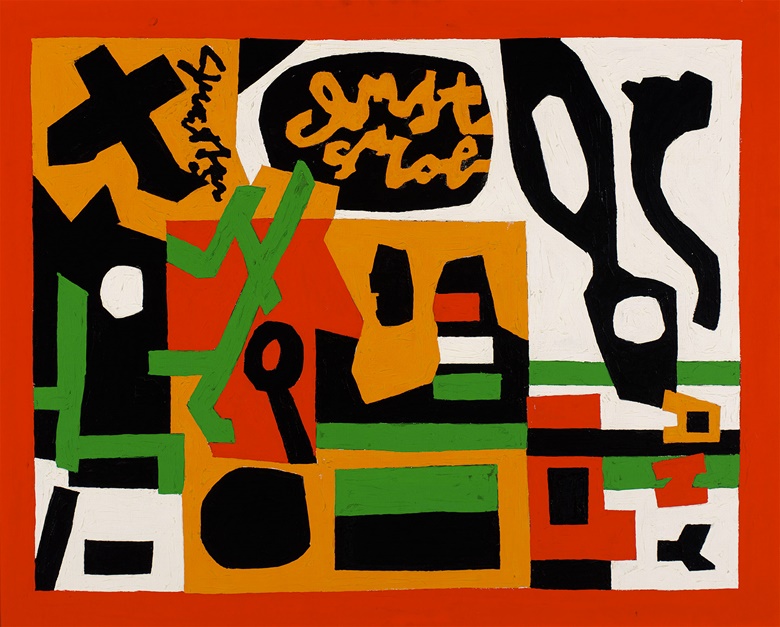 Stuart Davis (1892-1964), Letter and His Ecol, 1962. Oil on canvas. Pennsylvania Academy of the Fine Arts Philadelphia. John Lambert Fund (1964.2) Art © Estate of Stuart Davis/ Licensed by VAGA, New York, NY
How did the idea for this show come about?
Dr. Gail Stavitsky: 'Dr. John Cauman, my co-curator, approached me about doing a show on Matisse and his influence on American art. We started putting together a checklist, and at a certain point I thought we should expand our scope. We decided it would make sense to extend the show into contemporary art. In particular, I wanted the discourse to include the children's book illustrator Eric Carle [author of The Very Hungry Caterpillar], whose collages were very much inspired by Matisse's cut-outs.
'Colour was a means of liberation… [Matisse] felt that art was a form of personal expression and finding your own voice'
'I made a connection with the Matisse archives in 2014, which was critical to being able to produce the exhibit. I also want to emphasise the Christie's connection: we realised early on that we would need help with indemnification, and Christie's really stepped up with pro-bono appraisals. We have an ongoing relationship with Christie's that's been great.'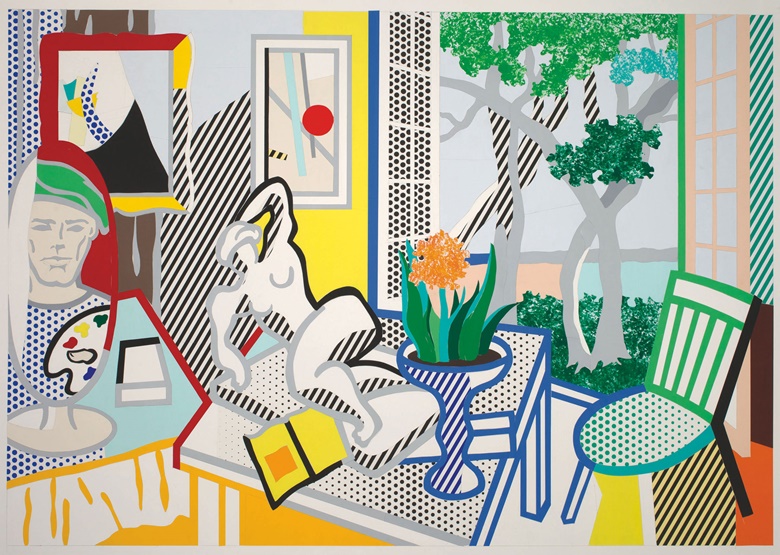 Roy Lichtenstein (1923-1997), Bellagio Hotel Mural: Still Life with Reclining Nude (Study), 1997. Cut-and-pasted, painted and printed paper on board. 40⅛ x 60 in (101.2 x 153 cm). The Roy Lichtenstein Foundation Collection © Estate of Roy Lichtenstein
What differentiates Matisse and American Art from other Matisse exhibits?
GS: 'Unlike others, this looks exclusively at Matisse's influence on American artistic practice, and over a longer period of time. Ours is the first show that goes back as far as 1907, and then takes it up to the 21st century. Matisse's production is so complex and multifaceted, and there is such a range of artists, whether abstract or representational, who have found inspiration in his work. The show includes the work of John Baldessari, who is a very different artist from Helen Frankenthaler, for example.'
Which elements of Matisse's practice feature most frequently in the work of artists inspired by him?
GS: 'Broadly speaking, you could divide it into colour, line and form. Matisse's deep, rich, saturated colour made a huge impact, as did his fluid grace and economy of line. Matisse's cut-outs were also hugely influential, for example on Ellsworth Kelly, who personally selected the piece to be shown in this exhibit before he passed away. Matisse's influence is seen in formal properties, but also in themes. The goldfish subject has often been appropriated, as has the theme of dance.'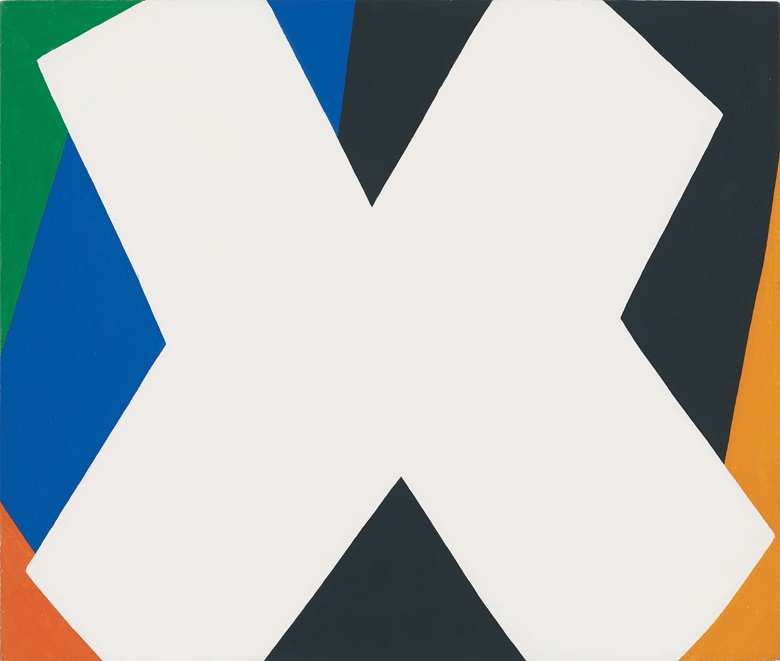 Ellsworth Kelly (1923-2015), White Cross, 1959. Oil on canvas. 17 x 20 in (43.2 x 50.8 cm). Private Collection. Photography by: Jerry L. Thompson, courtesy of Ellsworth Kelly Studio © Ellsworth Kelly
What has excited you most about the exhibit?
GS: 'It was wonderful to be able to show artists who actually studied with Matisse, and to combine their nudes with Matisse's own explorations of the nude. In particular I was excited by the opportunity to show artists like Sarah Stein, who are not frequently exhibited.'
Matisse and American Art took five years to put together. Did you face any particular challenges in curating it? 
Henri Matisse (1869-1954), La Danse (The Dance), 1935-36. Colour aquatint in black, grey, rose and blue Platemark, stone or block. 9 5/16 x 29⅛ in (23.6 x 76 cm). Sheet: 11 11/16 x 31 in (29.7 x 80.7 cm). The Pierre and Tana Matisse Foundation Collection  © 2016 Succession H. Matisse / Artists Rights Society (ARS), New York
GS: 'Perhaps the most significant challenge was deciding who to include. Certainly I could have highlighted other artists — where do you draw the line? In curating the exhibit, I asked myself who had the most interesting and sustained dialogue with Matisse. Not necessarily over the longest period of time, but something that was truly transformative for the artist, because so many artists have appreciated Matisse's work. Perhaps someone else would have come up with a different list, but I felt it was important to feature a balance of artists who are both well-known and less well-known.'
Faith Ringgold (b. 1930), Matisse's Model, 1991 (From the Series: The French Collection Part I; #5). Acrylic on canvas, printed and tie-dyed fabric, ink. 73 x 79 in (185.42 x 201.93 cm). Baltimore Museum of Art: Frederick R. Weisman Contemporary Art Acquisitions Endowment (BMA 1999.66) © 2016 Faith Ringgold / Artists Rights Society (ARS), New York
What do you most hope viewers will take from this exhibit?
GS: 'I would hope that viewers come away with an appreciation of Matisse as a complex, multifaceted artist. His work was very much about creating harmonious compositions. Because of that, his art is sometimes interpreted as overly simple, but it's actually very complex.
'For Matisse, colour was a means of liberation. He really meant that about all aspects of art: he felt that art was a form of personal expression and finding your own voice. I always thought this was a good message. Matisse first got serious about art when he was recuperating from appendicitis. That belief in the healing power of art is an inspiring message — especially in this day and age.'
Matisse and American Art is on show at the Montclair Art Museum in Montclair, 5 February to 18 June