Exuberant, colourful Italian jewellery design from the 1960s is back in high fashion — and, as Meredith Etherington-Smith reports, the Geneva Magnificent Jewels sale includes pieces with important and glamorous provenance
If Paris was the capital of fashion and culture in the Art Deco era of the 1920s and 1930s, Rome succeeded it as Europe's most exciting, stylish and decadent city in the 1950s and 1960s. The Cinecittà Studios — known as 'Hollywood on the Tiber' — attracted international stars such as Elizabeth Taylor and Richard Burton to its sound stages, and when the cameras stopped rolling they joined fellow luminaries Brigitte Bardot, Jayne Mansfield and Raquel Welch in the Café de Paris on the Via Veneto or at all-night parties at the Grand Hotel.
This demi-monde  was famously chronicled in Federico Fellini's 1960 film La Dolce Vita, starring Marcello Mastroianni as a reporter for a gossip magazine who is followed everywhere by his photographer, Paparazzo (after whom paparazzi were named). Mastroianni's character is tasked with tailing the idols of the era as they are chauffeur-driven from nightlife hotspots to grand villas. The movie captured Rome in its full glory, at a time when it was a magnet for the most glittering array of people on the planet.
Baron Enrico di Portanova and his wife Sandra in the Portanova Pleasure Dome in Acapulco in 1982. Photo: © Norman Parkinson Ltd. Courtesy Norman Parkinson Archive
Baron Enrico di Portanova, grandson of the American magnate and philanthropist Hugh Roy Cullen, was among them. A flamboyant character, he was born in the United States but raised in Italy — and known as 'Ricky' to his many friends in the global playgrounds of the rich and famous.
In 1961, the Baron headed to Houston in order to claim his share of the inheritance from the vast Cullen oil fortune. At the time, he owned a small jewellery boutique at the foot of the Spanish Steps, started with sapphires he had bought on a trip to Ceylon. When times were tough, as they frequently were in the early days, he occasionally posed for photo-romance magazines as a moustachioed hero.
Later, after having returned to Houston, Enrico would build Arabesque, a legendary house tumbling down a steep hill to a private beach in Acapulco. The spectacular villa, which boasted 35 bedrooms and 26 bathrooms, was used as a location for the James Bond movie License to Kill, and hosted many of the most famous and important figures of the time.
An ancient coin, diamond and gold necklace, by Massoni. The front suspending seven graduated pavé-set diamond geometric plaques, each enhanced by a baguette-cut diamond outline, the central pendant set with an Egyptian gold octadrachm, Ptolemy II (285-246 BC), flanked by a pair of Syracuse silver tetradrachms, additionally flanked by a pair of Alexander the Great (336-323 BC) silver drachms and gold staters, joined by pavé-set diamond arched links to the necklace designed as a graduated series of pavé-set diamond geometric links, 41.0 cm, mounted in gold. Estimate: CHF100-150,000. This lot is offered in Magnificent Jewels on 17 May at Christie's in Geneva
The necklace above was commissioned by Baron Enrico di Portanova in 1972 as a gift for Sandra Hovas, the year before the glamorous Texan became his second wife. It was made by Massoni, which was founded in Rome in 1790 and became suppliers to Italian royalty, the aristocracy and, in the 1960s, a wide range of well-known Italian and international personalities.
The bracelet shown below is by Marina B, who hails from the world famous Bulgari family, and created pieces for the firm until the mid-1970s. In 1978, after the death of her father, Marina started her own eponymous brand, based in Geneva. Almost immediately, her designs attracted a following led by Sophia Loren, and the jet-setters of St. Tropez, Ibiza, Capri, Monte Carlo, and St Barts.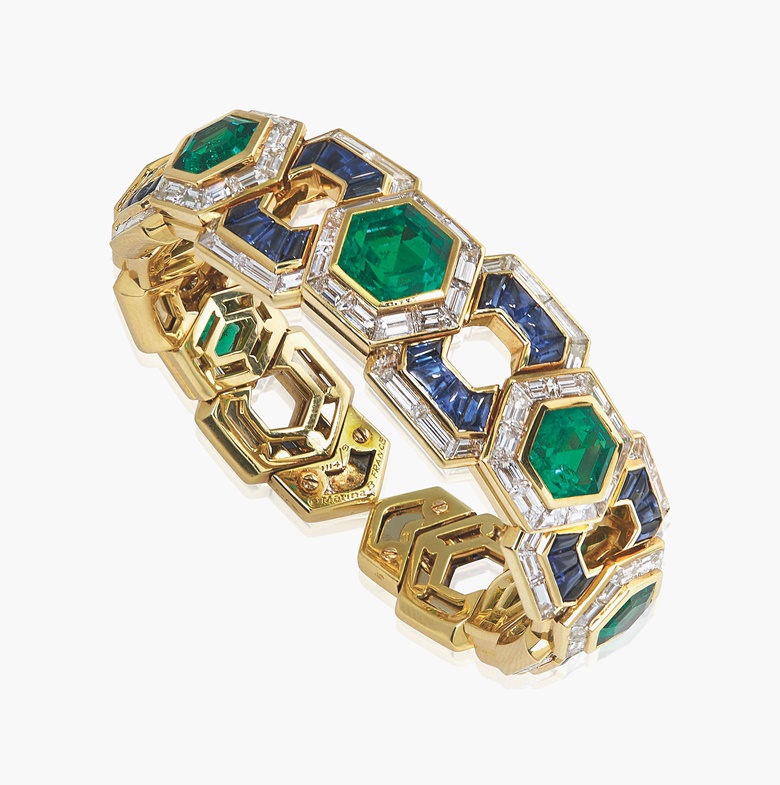 The unique emerald, sapphire and diamond 'Exi' bracelet, by Marina B. The expandable cuff bracelet composed of seven hexagonal step-cut graduated emeralds within a baguette-cut diamond surround, to the buff-top sapphire and diamonds spacers, 1989, 14.5 cm inner circumference, with French assay mark for gold. Signed and with maker's mark for Marina B, no. 1114/9. Estimate: CHF: 150,000–200,000. This lot is offered in Magnificent Jewels on 17 May at Christie's in Geneva
Silvana Mangano was an Italian screen siren of the dolce vita era. Born in Rome in 1930, she trained as a dancer and won the 'Miss Rome' title at the age of 16, which led her to her first film role. In 1949 she married producer Dino De Laurentiis, who is credited with bringing Italian cinema to an international audience, and collaborated with Carlo Ponti on the Fellini classics La Strada  and Nights of Cabiria.
Actress Silvana Mangano wearing a quartz, onyx and diamond pendant/brooch necklace by Bulgari, offered in the Magnificent Jewels sale in Geneva, in the 1974 movie Conversation Piece (Gruppo di Famiglia in un Interno) © Mario Tursi / Archivio Storico del Cinema / AFE
Between 1945 and 1987 Mangano starred in 38 movies, often opposite the greatest leading men of the time, including Vittorio Gassman, Alberto Sordi, Edoardo De Filippo, Jacques Sernas, Kirk Douglas and Anthony Quinn. During the golden age of Italian cinema, she worked with many of the most sought-after directors — Mario Monicelli, Pier Paolo Pasolini and Luchino Visconti, among them — and won three David di Donatello and three Nastro D'Argento awards.
A quartz, onyx and diamond pendant/brooch necklace, by Bulgari. The pendant of stylised star design, set with cabochon smokey quartz, onyx panels and diamond accents, to the longchain necklace of reeded bar-link design, interspersed with smokey quartz, onyx and diamond panels, circa 1975. Pendant 8.0 cm, necklace 73.0 cm, mounted in gold, in pink leather Bulgari brooch. Estimate: CHF40,000-50,000. This lot is offered in Magnificent Jewels on 17 May at Christie's in Geneva
The signed Bulgari pendant above, set with cabochon smokey quartz, onyx panels and diamond accents, was given to Mangano by De Laurentiis, and is typical of the bold jewels of the dolce vita, as are the ruby, sapphire and diamond 'serpenti' watch-bracelets (below), also by Bulgari. The actress wore the piece in Luchino Visconti's 1974 movie Conversation Piece (Gruppo di Famiglia in un Interno).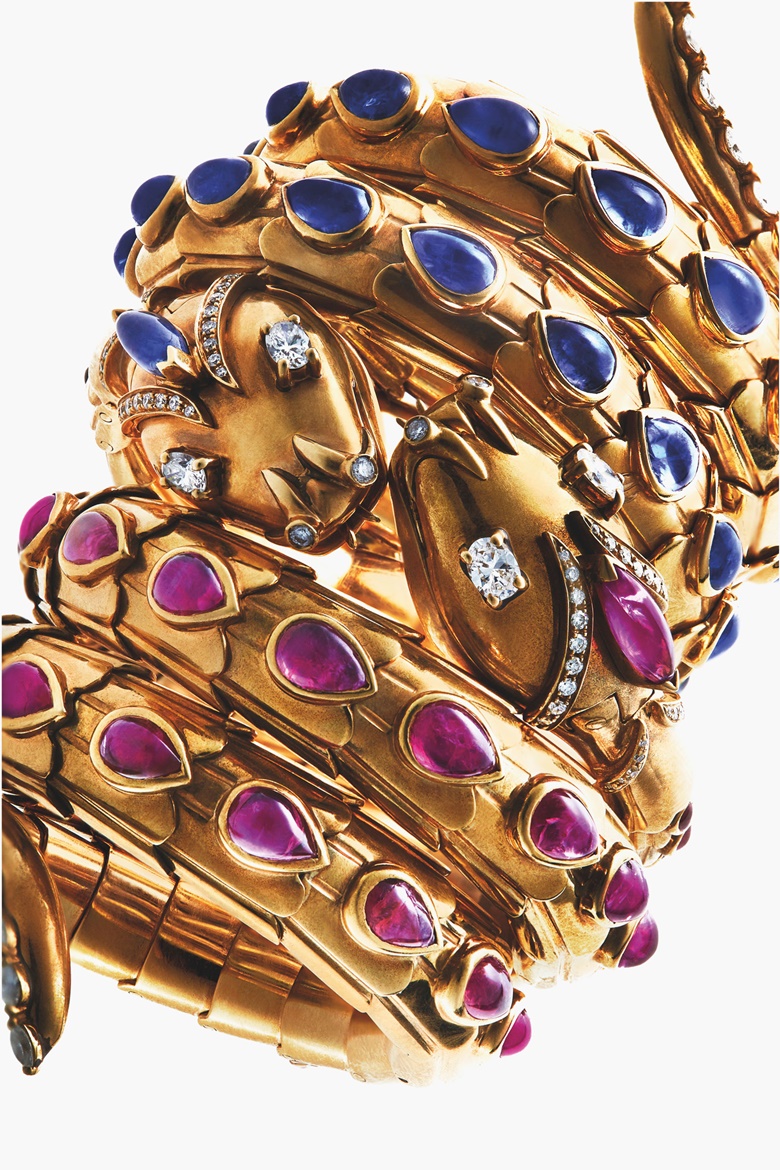 A pair of rare ruby, sapphire and diamond 'Serpenti' watch-bracelets, by Bulgari. Each designed as a coiled snake, the sprung body and the crest applied with cabochon ruby or sapphire, the head and tail enhanced by lines of diamonds, with oval-cut diamond eyes, the hinged jaw opening to reveal a circular dial with Arabic quarters and dagger hour markers, mechanical movement, mounted in gold, in brown leather Bulgari case. Estimate: CHF200,000-300,000. This lot is offered in Magnificent Jewels on 17 May at Christie's in Geneva
Bulgari was founded in Rome in 1884 by Sotirio Bulgari, but it was his sons Giorgio and Costantino, who took over the business in 1932, who are credited with creating the highly distinctive 'Bulgari Italian style'. With its daring colour combinations, sumptuous volume and experimentation with unconventional materials, it was a look that became symbolic of the decadence and romance of 1960s Rome.
Nino Manfredi was an influential Italian actor, director, screenwriter and star of the Italian comedy films known as Commedia all' Italiana. During his 54-year career he worked with directors such as Ettore Scola and Vittorio de Sica, and won numerous awards, including the Nastro d'Argento, which named one of its prizes after him.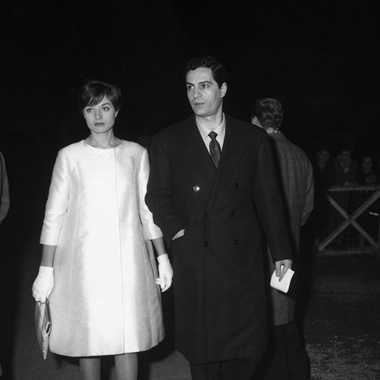 Nino and Erminia Manfredi, Rome, 1960. Foto Carlo Riccardi © Archivio Riccardi
A diamond fringe necklace. The baguette-cut diamond line with tied ribbon detail, suspending a fringe of graduated marquise cut diamonds tassels with central pear-shaped diamond drop, 36.0 cm. Estimate: CHF 20,000-25,000. This lot is offered in Magnificent Jewels on 17 May at Christie's in Geneva
Manfredi met his wife Erminia in 1955, and asked for her hand in marriage after just a week. A former fashion model, Erminia became her husband's professional partner in many of his theatrical plays, and the necklace above was one of her most prized possessions. The couple remained together for 49 years until Manfredi's death in 2004. A street in Rome is named after him.
If the contemporary extravagances of Dolce & Gabbana and the acclaim for the newly revitalised Gucci are a reaction to the monochrome minimalism that has ruled fashion for more than a decade, the revival of interest in Italian jewellery from the 1960s is surely a part of this welcome trend. The dolce vita, it seems, is alive and very well indeed.