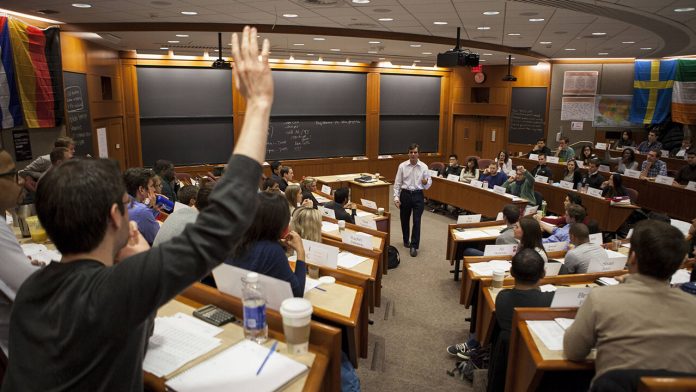 The case study method has long been a staple of the Harvard Business School (HBS) experience. The method begins with students analyzing business narratives and developing solutions that they defend in front of classmates.  Proponents of this teaching style believe it is the most effective way to teach students about leadership and management, along with honing their decision-making and presentation skills.  The case method has become so popular that B-schools around the world actually pay Harvard for access to its casebooks. In 2020, HBS sold more than 15 million cases.
"Cases expose students to real business dilemmas and decisions," Nitin Nohria, the former dean of Harvard Business School, writes for Harvard Business Review. "Cases teach students to size up business problems quickly while considering the broader organizational, industry, and societal context. Students recall concepts better when they are set in a case, much as people remember words better when used in context. Cases teach students how to apply theory in practice and how to induce theory from practice. The case method cultivates the capacity for critical analysis, judgment, decision-making, and action."
This year marks the 100-year anniversary of Harvard's case study method. The Harvard Crimson recently dug into the history of the method and asked students and professors to highlight what it means to them.
HISTORY OF THE CASE STUDY METHOD
The first HBS case was written in 1921 by HBS graduate Clinton P. Biddle—just 13 years after the school was founded, according to the Crimson. At the time, HBS was intent on finding the most effective way to teach students about business, leadership, and management.
Experts say the case study method was related to similar approaches first pioneered by law and medical schools.
"The idea that you can learn inductively from problems and then generalize — that idea had already started in law and perhaps even in medicine," V.G. Narayanan, chair of the MBA Elective Curriculum — or second-year curriculum — and an HBS professor, tells the Crimson. "The Business School was standing on the shoulders of giants."
THE PURPOSE OF COLD CALLING
One of the important aspects of the case study method is cold calling, where a professor calls on a student at random and asks that student to offer input for class discussion.
While cold calling may seem pressuring to some students, HBS professor Aiyesha Dey says others actually find it useful.
"So when you actually cold call, I've heard students often say, you know, 'I'm glad you called on me because I was not going to raise my hand, and because you called on me, the spotlight was on me, and I had to speak and it actually made me think, and I was very happy I could contribute,'" she tells the Crimson.
WHY IS THE CASE STUDY METHOD EFFECTIVE?
Many call the case study method one of the most effective ways to learn precisely because it offers the perfect level of versatility.
"It's effective because it uses a narrative approach that promotes problem solving, and critical analysis while really engaging students," New York University professor Kevin M. Bonney tells the Crimson.
HBS professor Rebecca A. Karp says the method is particularly useful in teaching students how form an argument using evidence-based analysis.
"As a student, it really forces you to support your perspective," she tells the Crimson. "So you can't just kind of have an opinion willy nilly, like you have to use the facts of the case to make your point. And that's such an important lesson to learn in the world of business."
For many students, the effectiveness of the case study method lies in the foundation that it sets for real world success.
"None of us are going to be going into jobs that are super clear-cut and where we know everything we're expected to do," HBS second-year MBA student Ilana R. Springer tells the Crimson. "It's super important to learn about all of the tactical skills in the context of a greater ecosystem, and that's what they're teaching us to do."
Want to End the Year Strong? Here's a Checklist.
With 2021 wrapping up and round two deadlines approaching, ending the year strong is critical. Stacy Blackman, founder of Stacy Blackman Consulting, recently offered a year-end to-do list for applicants to stay on track and avoid becoming overwhelmed.
MAKE SURE YOUR RECOMMENDERS HAVE WHAT THEY NEED
Your recommendation letters play an essential role in how admissions officers assess your candidacy. Some experts say that a strong recommendation letter can even make or break an application.
To ensure your recommendation letters are top-notch, Blackman suggests equipping your recommenders with helpful information, such as key attributes you want them to highlight in the letter.
"Spell out precisely what you hope they will convey in their recommendation," Blackman writes. "MBA programs want to see examples of leadership, teamwork, and management potential. Additionally, you can make things easy for your recommender by providing a list of at least three strengths with supporting anecdotes. Remind your supervisor of your career goals as a reference."
WRITE AND REWRITE
Essays are another critical component of your application. Blackman recommends that applicants allow six weeks for the essays portion—including revisions.
"Many candidates find it helpful to start by writing rough drafts that go 50% or more above the required word count," Blackman writes. "While that seems like more work, it ultimately creates a better final product. The revision process helps you hone in on the best topics or anecdotes to support your overall application."
You'll want to ensure that your essays speak to who you are outside of the GPA and test scores and what makes you different.
"Applicants from over-represented industries such as finance, information technology, engineering, or consulting should use the essays to focus on the aspects of your personal life that make you unique," Blackman writes. "Include hobbies, community service activities, passions and interests that make you stand out."
Columbia Business School Looks Towards the Future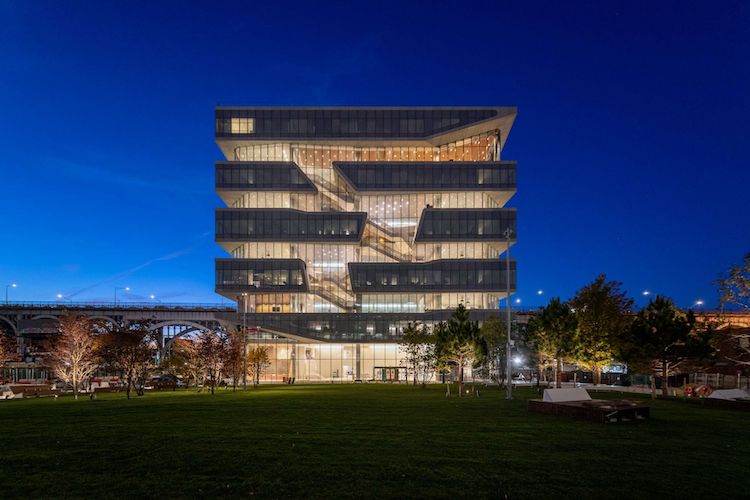 The COVID-19 pandemic has changed B-schools forever. Smaller class sizes and GMAT waivers are just a few of the changes that came about due to the pandemic. But Columbia Business School dean Costis Maglaras predicts business education has much more growth down the road. In an exclusive interview with Fortune, Maglaras highlighted how Columbia has embraced change and what growth looks like for the B-school beyond 2022.
A NEW CAMPUS
In January 2022, Columbia will welcome students to its new Manhattanville campus in New York City's West Harlem neighborhood. The expansion has played a critical role in Columbia's growth strategy for the future.
"We have been space-constrained for quite some time, and we were quite ambitious in our thinking of how we're going to execute on that expansion," Maglaras tells Fortune. "It's a modern sort-of airy, collaborative, social building where our lives and our students' lives will be drastically changed and improved. There's a lot of energy and optimism."
Maglaras says the new campus will provide the perfect environment for how students collaborate today and tomorrow.
"[Digital] transformation has changed the nature of the jobs and the respective organizations," he tells Fortune. "That by itself brought with it some collaborative work that MBA graduates engage in with engineers, with data scientists, with designers, with architects. This type of collaborative work, innovative work, and experiential learning is something that we will be able to really do extremely well in this new campus."
THE ROLE OF CLIMATE CHANGE
When asked what's likely to transform businesses in the future, Maglaras says it'll be climate change. It's something Maglaras believes transform our way of life—from how we build to what we eat. And it's also something that Columbia intends on preparing for.
"The location that we have, the campus that we have, and the new climate school that we have here at Columbia University leave a drastic opportunity for us," Maglaras tells Fortune. "That's something that we're investing in quite a bit because that's going to be the future driver of change in businesses, and as a result, in business education."
On top of the new campus, Maglaras says the B-school is developing a new curriculum that will prepare students for business transformation due to climate change.
"We're investing quite a bit of resources and time developing new curriculum in that space, enhancing research activities in that area about how businesses, how consumer psychology, and how finance is going to enter into that game," he tells Fortune. "Then finally we're deepening our ties with other parts of the university to best explore both the challenge, but also be part of the solution."