Adam Clayton of U2 talks to Francis Outred, Head of Post-War and Contemporary Art, about his passion for the work of Jean-Michel Basquiat, a drawing by the artist offered in our London sale, and how art inspires the band
Francis Outred: When did you first become interested in Jean-Michel Basquiat?
Adam Clayton: 'I first started to seriously learn about him in 1990 — I had some time off and had moved to New York to explore the art world, meeting gallerists and artists. It was just after his death, and there was a lot of energy around his work. He had been quite a character in New York — he would turn up to places in his Comme des Garçons suit splattered with paint and was very much part of the underground nightclub scene. He was around the same age as the musicians I was interested in, and would have been the same age as us. There was a group of artists — Basquiat, Keith Haring, and obviously Warhol was the granddaddy of the whole movement. The idea that these young painters without any gallery experience could make their mark on the streets of New York — could go to the hippest nightclubs, could mix with musical culture — was very exciting to me. It was where I came from — I always thought music and art went hand in hand together.'
FO: Can you recall your first encounter with this particular work?
AC: 'I was on 57th Street in the Robert Miller Gallery — they had just taken over Basquiat's estate and were looking through the inventory. I definitely responded to the kind of work I would call 'biological', where there was a lot of archaeology in the skeleton and the bones. I had already selected a large painting that I thought would be a really great piece to share with the band and have in our studio, and we started to look through the works on paper. They were generally very complex, with lots of lines and activity, and this work stood out because it had a very tragic image — it's clearly an unobscured self-portrait, with what looks like a tear drop coming from the eye. It seems to me it's not just about Jean-Michel — it's about being African-American.'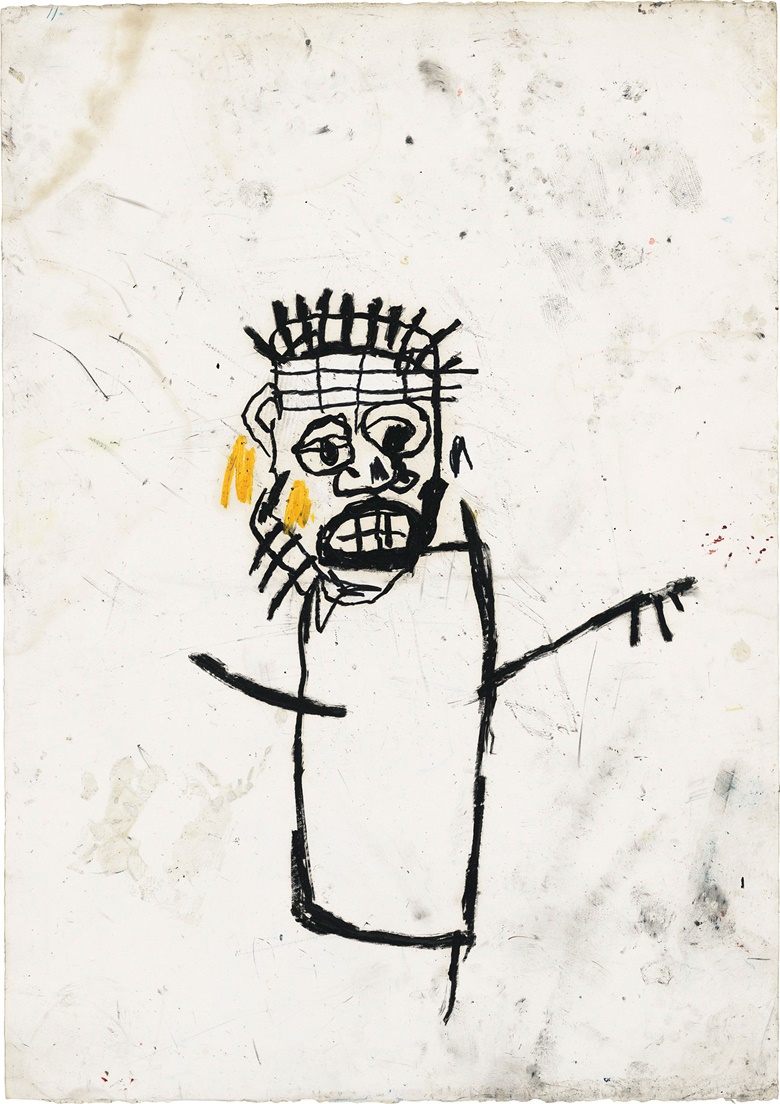 Jean-Michel Basquiat (1960–1988), Untitled, 1982. Oil stick on paper. 42⅝ × 30 in (108.3 × 76.2 cm). Estimate: £1,000,000–1,500,000. This work is offered in the Post-War and Contemporary Art Evening Auction on 7 March at Christie's London
FO: The scale of the work, and the fact that it's been walked over and lived with for such a long time in Basquiat's studio, makes it very special. I'm interested that you hung a painting in your studio — did you and the band members share a passion for Basquiat?
AC: 'In New York and in musical culture there was this shift happening towards much more dance-orientated music. It was the very early days of rap and hip hop, which was a very exciting time because it had a real energy, and it also indicated — finally — that the African-American voice within music had a really strong identity of its own. At the time people were talking about Jean-Michel as being the Jimi Hendrix of painting and I think that's true — he was an African-American artist in a sea of white artists, but doing something very different and extremely his own.'
FO: Obviously your music transformed a lot at this time —Achtung Baby  was really a big breakthrough and quite a transition from Joshua Tree…
AC: 'With Joshua Tree  we were looking at a lot of US music and trying to reinvent the form, and at the same time tackling the darker side of what was going on in America. With Achtung Baby, which came a couple of years after, we were thinking about a different sound and the technology at that point meant you could add more computer sounds — you could sample sounds and generate them. This was all happening within club culture, so it felt as though we were all working off the same palette.'
'When I see works that really speak to me I like to acquire them if I can. By bringing them into my home, they become something I have a direct relationship with'
FO: Do you think that living in New York changed your perception of Basquiat's work?
AC: 'It was a great time to be in New York as a young creative, because everything was possible at that point. There were underground clubs, the gallery system didn't exist downtown in the way that it does now, and if you were an artist you were pretty much free. There wasn't a system that you had to be part of in order to have access to collectors, and I think that was very much part of Jean-Michel. It's also part of young artists; they don't want to work the system as much — they actually just want to make the work. It was the very early days of what the art world was about to become.'
FO: When I look at this work, the arms remind me of arrows going into the body — it's almost as if he's portraying himself as a victim. This is a portrait of Basquiat having just exploded on to the art scene in 1982, and possibly feeling the repercussions of this new world. Did you as musicians, who had a similar kind of growth, find that kind of exposure troubling, or were you more prepared for it?
AC: 'I think whether you're prepared or not, you understand that the idea is to get your work to the greatest number of people possible, because you want to share it. I think the art world works a bit differently, in that you want to get it to an influential number of people and you want to get it into museums, so you have a different relationship with it — I think that's where the two goals separate. I think you're right about the arrows in this work — it's one of the very few genuinely stark images that he ever produced of himself without adding anything else to it. It's an incredibly disciplined drawing, but that's what makes it so powerful. He represents himself with the crown in a lot of his works, but this picture has a pathos and, in some ways, is an antidote to all the noise surrounding his work and all the attention it's had over the years. It brings you back to the artist and his difficulty of fitting into that world.'
FO: That's true, a lot of his portrayals of himself are very confident — with his arms raised, powerful and athletic — and here you have the direct opposite: a fragile figure who's coming to terms with a new kind of normality. How do you see the relationship between the paintings and the drawings?
AC: 'I think the drawings were where he worked out ideas — a lot of images migrate towards the paintings, but I think the drawings are a direct connection with him. You can imagine him with an oilstick or a piece of charcoal working on a piece of paper over a couple of hours — you can see that concentration.'
FO: This was a time of great success in your career. How does this work fit into that story?
AC: 'My antidote to being on the road or in the recording studio has always been the opportunity to get out and see artworks. It's a much more meditative environment for me, so when I see works that really speak to me I like to acquire them if I can. By bringing them into my home, they become something I have a direct relationship with — I went and saw them, I went and bought them, I brought them into my space, and they very much keep on giving. It becomes a cyclical relationship, and that was very much true of this particular drawing. Being in New York certainly marked the beginning of my ability to understand and follow contemporary art, and I've continued to build on that.'